updated: 2/18/19
The Snow Fest was a success. We had great weather, nice people, and lots of winter fun!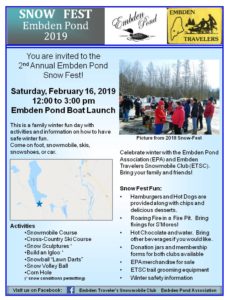 Join our group on Facebook:  Embden Pond Association  https://www.facebook.com/groups/1715879898646590/
We have a beautiful pond, rated among the best in the state of Maine. It is clean, clear, cool, and a place where lifelong memories are created. If you enjoy Embden Pond please help us maintain its pristine beauty. Contact us if you would like to join the Embden Pond Association or look on the "members" page for a membership form.